The most important executive diversity initiatives in 2021, by AESC
Organizations are being asked to identify diverse talent to fill executive-level positions. The lack of diversity in leadership positions is consistently cited as a critical corporate issue, leading recruiters to pursue a wide range of executive diversity initiatives in 2021.
According to an analysis by McKinsey, companies in the top quartile for gender diversity on executive teams were 25% more likely to achieve above-average profitability in 2019 when compared to companies in the fourth quartile. That percentage is up from 21% in 2017 and just 15% in 2014. In the same study, McKinsey found that top-quartile companies for ethnic diversity outperformed those in the fourth quartile by 36% in profitability.
Nonetheless, achieving executive diversity is a challenge for many organizations. It is now more important than ever for recruiters to leverage robust sourcing tools so they can meet diversity requirements for ethnicity, age, gender, and experience.
Here, we'll explore why executive diversity trends are driving a shift in how executive boards find their members and how organizations can harness actionable people intelligence to identify the best candidates for leadership roles.
RECRUITING ETHNICALLY DIVERSE CANDIDATES
There is a heightened imperative for organizations to seek ethnically diverse leaders after a year of international racial justice protests. Companies are also facing increased scrutiny due to the lack of ethnically diverse representation in the C-suite and board rooms.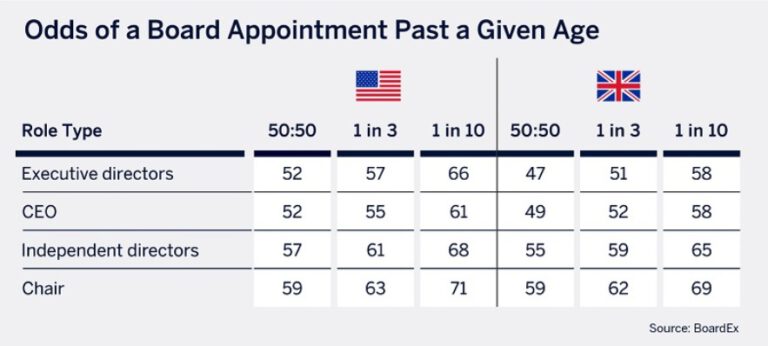 In the UK, a campaign group led by female executives called The 30% Club is campaigning to see "at least one person of color on every FTSE 350 board… with half of these seats going to women, creating 175 board seats for women of color," by 2023, according to The Evening Standard.
Still, some organizations have openly acknowledged that they need to make a oncerted effort to hire underrepresented groups into leadership positions. For example, in a LinkedIn post from May 2020, Larry Fink, the Chairman and CEO at Blackrock, vowed to "continue to push forward in our efforts as a leadership team to build a more inclusive and diverse firm." Similarly, more than 50 business leaders from some of Europe's largest companies signed a pan-European commitment to promote inclusion and diversity in 2018.
But more important than promises are concrete internal and external targets. For example, Reuters reported that Alphabet's Google promised to fill 30% of its leadership positions with employees from underrepresented groups by 2025.
Publicly traded companies may soon have a set of external targets regarding the ethnic diversity of their board of directors. On December 1st, 2020, Nasdaq filed a proposal with the SEC to require most Nasdaq-listed companies to show diversity statistics regarding their board of directors, according to a separate report by Reuters. The companies must also have at least two "diverse directors," including one who self-identifies as either an underrepresented minority or LGBTQ+.
Still, studies suggest that more companies need to take significant steps on their own to set internal targets for ethnically diverse representation on their boards.
BoardEx and Odgers Berndtson recently conducted a survey to understand the rate at which ethnically diverse candidates are represented in leadership positions. According to the UK Diversity Report, being released later this year, 53% of the C-suite executives surveyed said their company's leadership team includes people from underrepresented and diverse groups.
That, of course, still leaves nearly 47% of organizations without any diverse leaders. To maintain the progress and address these gaps, organizations can combine internal intelligence with insights on competitor talent, including awards, achievements, and memberships in ethnicity-based associations. This can help them better identify diverse candidates for leadership-level positions.
RECRUITING AGE-DIVERSE CANDIDATES
Recruiting candidates of different age groups is another executive diversity trend that has gained attention in recent years. Companies are beginning to realize that age diversity can lead to both stability and innovation.
Research shows that an age-diverse workforce improves productivity and performance. According to AARP, "This combination of tacit knowledge—for example, a nuanced understanding of the regulatory environment, or the anticipation of unforeseen roadblocks—with new ideas and approaches often results in a quicker path to success."
Unfortunately, many high-level decision-makers are still struggling with outdated ideas about what constitutes an appropriate age for a board-level position. Board appointments still tend to be made in a relatively narrow age range.
BoardEx conducted a study entitled The Right Age to be a Director, which is available now. Using BoardEx data, the study analyzed the age at which individuals occupying CEO and board-level roles were appointed to their positions. This data was then used to determine the likelihood that an individual would reach these positions by a certain age—factors that were not considered, but could also impact these appointments include past track record, skills, and education.
The study revealed that there are ages by which these CEO and board chair roles need to be achieved if a suitably qualified person is ever likely to gain such an appointment. As the candidate advances in years, the remaining likelihood declines gradually at first, and then much faster, until low levels of likelihood remain.
The following table illustrates the declining odds of achieving a CEO or board chair position based on age:
In the U.S., board chair candidates over the age of 71 have a 1 in 10 chance of being appointed, whereas candidates over the age of 59 have a 50:50 chance of being appointed. In the UK, the chances of being appointed to a chair position drop to 1 in 10 at the age of 69.
The results are similar for appointments to CEO roles, and the age thresholds before the odds begin to diminish are generally much younger. In the U.S., CEO candidates at the age of 61 have only a 1 in 10 chance of being appointed to the position. In the UK, candidates at the age of 58 have a 1 in 10 chance.
ACHIEVING GENDER BALANCE IN LEADERSHIP
Gender balance is also an important executive diversity trend, and many companies are working to incorporate gender diversity into their leadership recruiting efforts. There are also numerous campaign groups championing gender diversity.
Organizations like the 30% Club and the Women's Forum of New York represent and champion female leaders in business.
These organizations, and others like them, are working to create gender balance among executive leadership teams and company boards.
However, there are not enough women being hired into disciplines that can lead to high-level positions. According to BoardEx's Global Leadership Team Gender Diversity Report from November 2020, certain departments have higher rates of women participating in them than others.
Per the study: "High participation levels in HR (and to a lesser extent in legal) raise the question of 'women's roles.' Although there are no exclusively female disciplines, the high participation rates in these disciplines suggest a degree of career funneling may be taking place. At the same time, the very narrow range and low female participation rates in general management ring alarm bells, particularly when these positions account for 44% of all leadership roles."
It is imperative that organizations not only audit how women are represented in senior leadership positions, but also how they are represented in the departments that typically serve as a track to leadership opportunities. Roles in departments like management, strategy, and finance often provide more opportunities for candidates to rise to leadership positions than others.
USE DATA TO MEET EXECUTIVE DIVERSITY TARGETS
As companies work to meet executive diversity quotas set by governments, marketplaces, and themselves, they must identify the right people to fuel business growth. The digital transformation brought on by the pandemic puts a focus on identifying leaders with a track record for leading successfully through change. This transformation can also be leveraged to enable greater diversity.
Organizations can measure and manage diversity goals by leveraging tools that show data on leadership talent and diverse candidates.
BoardEx tracks the professional experience of 1.5M+ global business leaders, identifying key experiences and skillsets they've earned throughout their career. You can use BoardEx to uncover leaders with unique industry and sector experience, as well as backgrounds that can include leading a company through the IPO process, through a merger or PE acquisition.
The BoardEx Diversity Network also highlights allies and advocates of specific ethnicity groups in leadership roles, presenting users with actionable data on talent opportunities. Using BoardEx, your company can identify diverse and up and coming candidates quickly. If you want to learn more, request a demo here.